Our Philosophy:
Over the past 30 years, The Mount Vernon Company has demonstrated a dedication to service and attention to our properties that has enabled us to win virtually every award available in the real estate industry. From historic Back Bay and Beacon Hill brownstones and renovated apartments in Allston-Brighton, to cutting edge environmentally advanced new communities, MVC takes pride in every aspect of our business.

Beyond bricks and mortar, we are deeply committed to the community having actively supported organizations including: The Make-A- Wish Foundation, Habitat for Humanity, Youth Build Boston, and the Children's Advocacy Center as well as encouraging volunteerism throughout our firm.

Our dedication to quality buildings and service as well as our commitment to the community sets MVC apart. We look forward to having you as a resident and making our house your home.
Sincerely,
Bruce A. Percelay
Chairman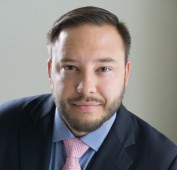 Morgan Pierson
Vice President
Morgan is Vice President of the Mount Vernon Company. In this role he is responsible for acquisitions and developments for the entire investment portfolio. Additionally, alongside Bruce, Morgan manages the firm's commercial development and construction endeavors including the upcoming 530 Western Avenue, The Revolution Hotel and 37 North Beacon Street projects.

Prior to joining Mount Vernon, Morgan spent seven years working as a management consultant throughout the country including Chicago and Washington DC. During that time he focused on solving land use, political and entitlement issues for commercial real estate clients. These projects included shopping centers, wind projects, multi-family developments, casinos, petroleum refineries, and hospital developments.
Morgan received a B.S. in International Economics from The George Washington University and holds an M.S. in Real Estate Development from the Massachusetts Institute of Technology. He is a member of NAIOP Massachusetts, ULI Boston and a member of the MIT AACRE Executive Committee. He is a native of Massachusetts and currently resides in Boston.