Our Philosophy:
Over the past 30 years, The Mount Vernon Company has demonstrated a dedication to service and attention to our properties that has enabled us to win virtually every award available in the real estate industry. From historic Back Bay and Beacon Hill brownstones and renovated apartments in Allston-Brighton, to cutting edge environmentally advanced new communities, MVC takes pride in every aspect of our business.

Beyond bricks and mortar, we are deeply committed to the community having actively supported organizations including: The Make-A- Wish Foundation, Habitat for Humanity, Youth Build Boston, and the Children's Advocacy Center as well as encouraging volunteerism throughout our firm.

Our dedication to quality buildings and service as well as our commitment to the community sets MVC apart. We look forward to having you as a resident and making our house your home.
Sincerely,
Bruce A. Percelay
Chairman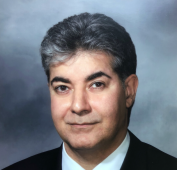 Mohsen Vessali
Chief Financial Officer
Mr. Vessali is The Mount Vernon Company's Chief Financial Officer, a leader and award-winning real estate investment firm. Mohsen is responsible for the overall financial management of the firm, risk management, as well as corporate operating activities. Mohsen also oversees the firm's banking, tax and investor relationships.
As a real estate veteran and executive, Mohsen has managed large operations and construction teams, as well as help grow the bottom line of small commercial real estate companies through acquisitions or grow the revenues of well-established construction firms.
Previously, Mr. Vessali was also Director of Financial Operations, The Americas, for one of the world's largest REITs, Prologis, overseeing The Americas' financial operations. In his role, he had responsibilities for the Latin American finance teams, Canada and domestic US. While at Prologis, Mohsen was also responsible for the global development and property statistics information and Americas' SEC compliance.
Mohsen received a degree in Finance from University of Lowell and serves on several advisory boards.