Our Philosophy:
Over the past 30 years, The Mount Vernon Company has demonstrated a dedication to service and attention to our properties that has enabled us to win virtually every award available in the real estate industry. From historic Back Bay and Beacon Hill brownstones and renovated apartments in Allston-Brighton, to cutting edge environmentally advanced new communities, MVC takes pride in every aspect of our business.

Beyond bricks and mortar, we are deeply committed to the community having actively supported organizations including: The Make-A- Wish Foundation, Habitat for Humanity, Youth Build Boston, and the Children's Advocacy Center as well as encouraging volunteerism throughout our firm.

Our dedication to quality buildings and service as well as our commitment to the community sets MVC apart. We look forward to having you as a resident and making our house your home.
Sincerely,
Bruce A. Percelay
Chairman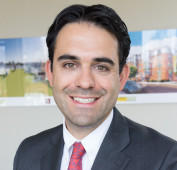 Mike Delsesto
Acquisitions Manager
Mike Delsesto is an Acquisitions Manager for the Mount Vernon Company. He is responsible for sourcing and identifying new investment opportunities for the firm. In addition, Mike is responsible market forecasting and implementation of new technology and works as a liaison with the local brokerage community in leasing of the company's 1,400 units.
Mike is a CCIM designee and is the President of the New England Chapter. He received a Bachelor of Arts from Boston College and holds a certificate in commercial real estate finance from Boston University. Prior to joining Mount Vernon he owned and operated a boutique real estate brokerage company which specialized in student housing. Mike launched a software company for apartment owners named Lease Dash that was selected as a finalist in the Mass Challenge Accelerator program.
Mike is a member of the Urban Land Institute and the Greater Boston Real Estate Board and is a licensed real estate broker. He teaches a real estate apprenticeship at various Boston Public Schools in partnership with Citizen Schools. He currently resides in the Union Square neighborhood of Somerville.